A Unique Shopping Experience Awaits You
Welcome to Sugared Mango Soaps, your unique destination and experience in Virginia Beach. As soon as you walk through our doors, you'll realize that we're not just another retail store. From the warm greeting you receive to the whimsical atmosphere that envelops you, you'll know that you're in for a treat. We offer a wide array of products that span handmade soaps, curated gifts, and accessories. We infuse our unique personality into everything, making sure that you don't just buy a product but take home a piece of our world. With our signature scents like Berry Good Day and Every Day Happy, we've meticulously created products that offer more than just functionality. They create memorable moments and experiences that you'll want to revisit over and over again.
Shop Now
OUR STORY
Sugared Mango Soaps was as a way to solve some of my own aging skin issues. After a lifetime of dry skin and adult acne, I was looking for something to help me solve the issues. I went back to basics when I started making soaps. Simple ingredients were the key! I found a whole world of natural products and started experimenting on friends and family good ingredients, good results.
BRAND VISION
Safe & Environment friendly
Along the way, I found out that not all chemicals are bad and that preservatives are necessary in the business world. I continue to evolve and research items that are on my "personal good list" and have taken a few unnecessary ingredients out of my realm.
Liquid error (sections/pagefly-home line 123): product form must be given a product
MEET THE FOUNDER
" I care tremendously about your needs."



While I may not be the most cutesy brand you have ever met you can count on my sensibility about the product, the ingredients, and the costs. We try to be rather straightforward in our approach. Like our packaging, we are just simple. We can do cute and fluffy too. Just ask!
Enter A Chance To Win A Free Gift
Enter a chance to win our monthly get away by joining our mailing list, and receive some of the best deals possible..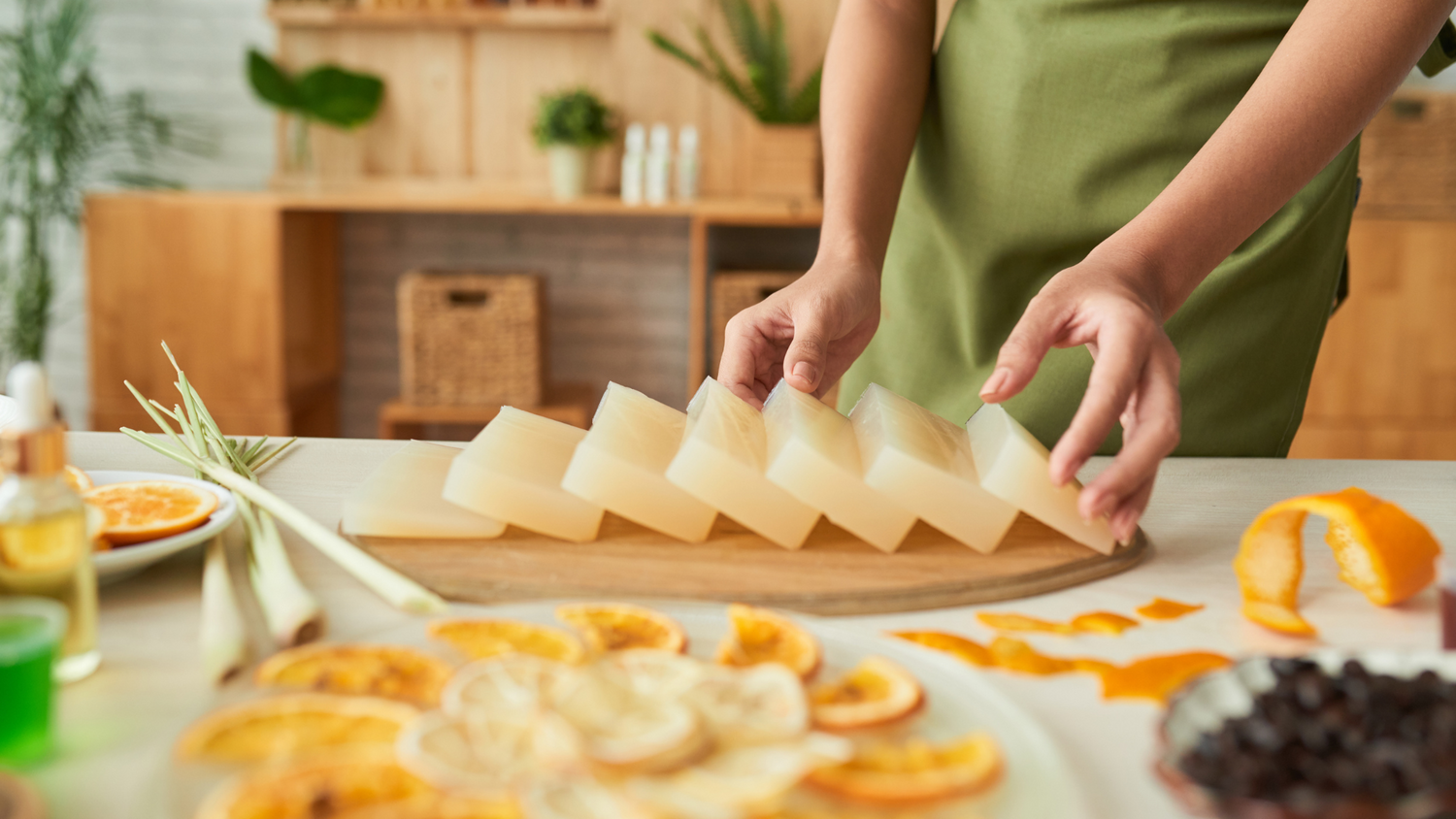 A Tropical Vacation in Every Soap Bar
Our mango soaps are an exotic delight that you won't find elsewhere. Made with high-quality ingredients and an unmatched passion for the craft, our mango soaps are a tropical vacation in soap form. From the moment you unwrap one of our mango soap bars, you'll be transported to a paradise where the sun always shines and the mangos are always ripe. It's not just about cleansing your body; it's about elevating your whole mood. These soaps come in vibrant colors and feature intoxicating fragrances that linger, making your bathing experience something to look forward to every day.
Shop Now
Multimedia collage
Date Nights Redefined
Looking for a fresh idea for a memorable date night? At Sugared Mango Soaps, we spice things up by offering candle-making classes! Ditch the ordinary and dive into an extraordinary hands-on experience with your partner. Collaborate, have a blast, and maybe even indulge in a fun candle-making challenge. By the end of the class, you won't just have had an amazing time—you'll also walk away with a beautifully crafted candle, a tangible keepsake from your unforgettable evening together.
Shop Now
Customer Reviews
I recently visited Sugared Mango Soaps in Virginia Beach and I was absolutely blown away by the experience! The store itself is like stepping into a wonderland of scents and colors. I bought the mango soap and it's just divine. It's a tropical escape right in my bathroom. The staff were super helpful and took the time to explain the different ingredients and benefits. I'm definitely going back for more and can't wait to try their soap-making class!

Emily Thompson

My wife and I were looking for a unique way to spend our anniversary, and we stumbled upon Sugared Mango Soaps. We decided to take a soap-making class and it was so much fun! The instructor was knowledgeable and made the process engaging. At the end of the class, we each had a handmade soap to take home. It felt like we not only created soap but also wonderful memories.

David Williams

Sugared Mango Soaps is an experience. The first thing that hits you is the array of beautiful scents—each one better than the last. I bought a variety of products, from bath items to home decor, and each one felt special and unique. The staff were friendly, making recommendations based on my preferences, and the signature scent "Every Day Happy" has quickly become my go-to. This store offers a bit of the unusual, and I'm all for it!

Sarah Patel

This was such an awesome experience! Three of us came here for the bath bomb making workshop. We had so much fun! It was very relaxing, and smells wonderful. Her shop has so much cute stuff! To make the bath bombs was about 30 minutes, and we'll worth it! I definitely recommend this experience.

Ztutuh

Tuck away in a tiny strip you would drive by a hundred times is Sugared Mango. It's an adorable little gift shop I can't believe I haven't been in there before.

They feature homemade soaps, candles, bath bombs, jewelry, scarves, mugs, all kinds of cute and unique items. Danielle the owner is really sweet. They also have bath bomb making classes which my daughter did with her Girl Scout Troop.

Looking to support local? Well this is a great shop in Chicks Beach with a marvelous owner that will appreciate your business.

J David H.

If haven't visited this shop, you should run over there! Danielle has so many cool and unique finds in stock! Just when you think you're done, you find something else to buy for someone (or yourself).

My kids and I enjoyed making and learning about candles with Danielle. I always learn something new when I go over there! Check it out!

Local Guide
Frequently Asked Questions
Why is Sugared Mango Soaps so popular?

One of the big reasons we at Sugared Mango Soaps have soared in popularity is our unique approach to what a soap and gift shop can be. When you walk into our store, you quickly realize it's an experience, not just a shopping trip. Our mango soaps are a prime example. These soap bars are like an invitation to a tropical paradise, right in your bathroom. With vivid colors and heavenly scents, our mango soaps do more than just clean you. They take you on a sensory journey that makes everyday activities feel like special occasions. Our mango soaps have become a customer favorite and it's easy to see why.

Another reason people can't get enough of us is our wide range of products that go well beyond our famous mango soaps. We offer hands-on soap-making classes that invite you to explore your creative side. Our carefully curated gifts and home decor make any occasion extra special. If you're looking for unique date night ideas, we have those too. We pour our attention to detail and personal touch into everything we do. This makes shopping with us more than just buying things. Whether you're here for our mango soaps or any of our other offerings, we provide an unforgettable experience that keeps customers coming back again and again.
Privacy Policy

At Sugared Mango Soaps, we highly value your privacy and go to great lengths to protect it. When you shop with us, either in-store or online, we collect only the essential information needed to make your experience smooth and enjoyable. Rest assured, we never sell, rent, or share your personal information with third parties. Any data we collect, such as your name, email, and shipping address, is stored securely and used solely to enhance your shopping experience with us, like sending you updates about new products or special offers. Your trust is crucial to us, and we are committed to maintaining it.
Shipping Policy

We understand how eager you are to enjoy our amazing range of products, including our famous mango soaps. That's why we make sure to process your orders quickly and efficiently. Our standard shipping usually takes between 3 to 5 business days within the United States. We also offer expedited options for those who can't wait to dive into their tropical escape. Please note that shipping fees are non-refundable, and we are not responsible for any delays due to weather conditions or other factors beyond our control.
How can I get in contact with you?

If you have questions, concerns, or just want to say hello, there are several ways to get in touch with us. You can visit our store in Virginia Beach for a face-to-face chat, give us a call at our customer service hotline, or send us an email. We also have a 'Contact Us' form on our website that you can fill out for a prompt response.

Phone: 757-918-2021
Email: sugaredmango@gmail.com

Address:
4425 Shore Dr #101
Virginia Beach, VA 23455

We're always happy to hear from you and assist you in any way we can.